Information

Captain EO, which debuted at Walt Disney World's Epcot Sept 12, 1986 and then at Disneyland on Sept. 18, 1986. It ran continuously through April of 1997
The attraction returned to Epcot July 2nd 2010, as a tribute after Jackson's death
It was produced by George Lucas and Directed by Francis Ford Coppola
Steven Spielberg was first choice to direct but was busy on another project
Show time - 17 minutes

Attraction Type

3-D film with special effects



Designer:
Walt Disney Imagineering
Industrial Light & Magic


Music:
Michael Jackson (songs)
James Horner (score)


Cinematograph:
Peter Anderson


Visual, Lighting and Photographic Consultant:
Vittorio Storaro


Writer and producer:
Rusty Lemorande


Budget:
$23.7 million
The attraction is billed as "Captain EO Tribute" by way of distinguishing the presentation of the film from its original 1986-1997 run. The current presentation makes use of existing in-theatre special effects held over from Honey I Shrunk The Audience, but many of the original "4-D" effects such as smoke and lasers were removed from the building at the show's first closing, and were not returned for the revived presentation.

Michael Jackson as Captain EO Epcot, Walt Disney World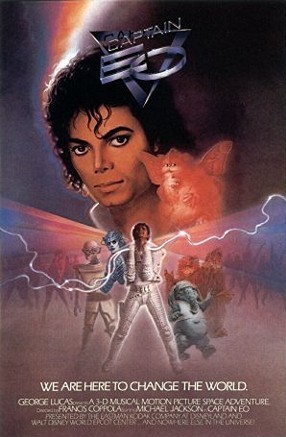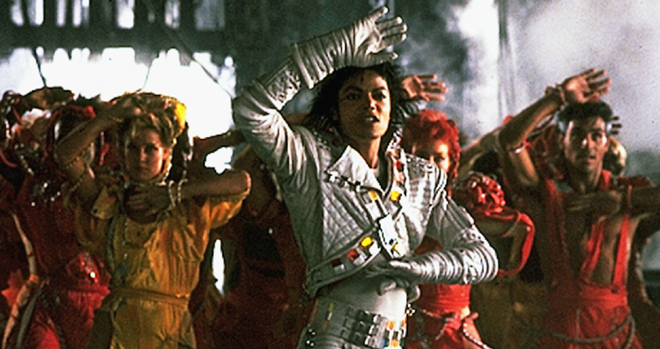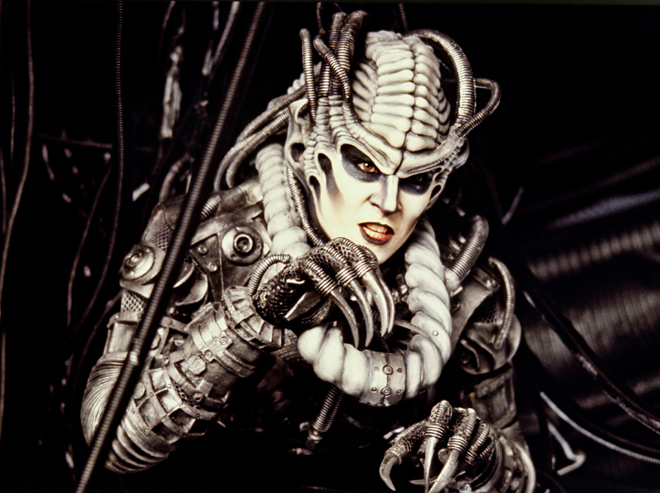 I seen this show a few times at Epcot myself in the 80's. The 3d effect at that time were awesome, now, not so much.
CAST
Michael Jackson ... Captain EO
Anjelica Huston ... The Supreme Leader
Dick Shawn ... Commander Bog
Tony Cox ... Hooter
Debbie Lee Carrington ... Idee (as Debbie Carrington)
Cindy Sorenson ... Geex (as Cindy Sorensen)
Gary DePew ... Major Domo
Kahea Bright ... Dancer
Donald Devoux ... Dancer
Cameron English ... Dancer
Bruno Falcon ... Dancer (as Bruno Falcon III)
Eric D. Henderson ... Dancer (as Eric Henderson)
Hugo Huizar ... Dancer
Evelyne Jezek ... Dancer (as Evelyn Jezek)
Ben Lokey ... Dancer
Lezlie Mogell ... Dancer
Stephen Nicholas ... Dancer
Mary Ann Hermansen ... Dancer (as Mary Oedy)
Beverly Shofner ... Dancer
Timothy Solomon ... Dancer
Kevin Bender ... Dancer
Janeen Best ... Dancer
Derrick Brice ... Dancer
Bill Burns ... Dancer
Alex Cole ... Dancer
Dennis Daniels ... Dancer
Felix Montano ... Dancer
Tony Fields ... Dancer
Forrest Gardner ... Dancer
Barry Lather ... Dancer
Reggie O'Gwin ... Dancer
Smith Wordes ... Dancer (as Smith Osborne)
Michelle Rudy ... Dancer
Darrel W. Wright ... Dancer (as Darrel Wright)
Timothy Scott ... Dancer (as Tim Scott)
James 'Jazzy' Everett ... Dancer (as James Everett)
Bobby Walker
rest of cast listed alphabetically:
Sheila Best ... Dancer
Fred Apolito ... Slave (uncredited)
Doug Benson ... Orange Dancer (uncredited)
Gabriel Bologna ... Dancer (uncredited)
Renee Colette ... Dancer (uncredited)
Percy Rodrigues ... Narrator (uncredited)
Return to the WDW attraction main page
---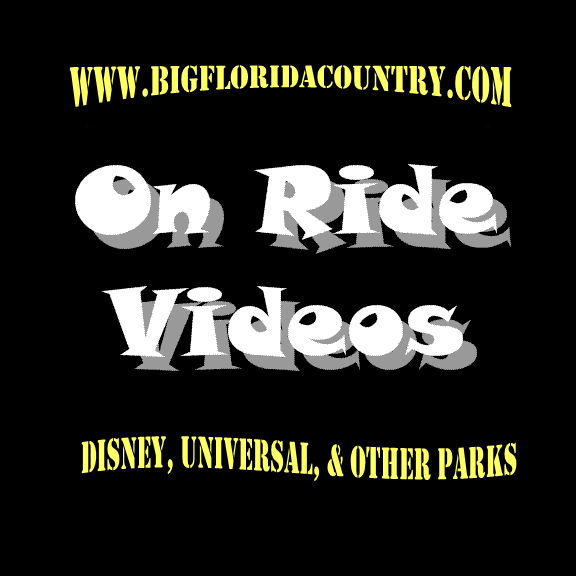 ---
Videos
iPhone/Mobile
PC