Information

Song of the South was a live action/Animation hybrid released in 1946
In 1939 Walt Disney bought the rights to the
Uncle Remus stories from the Harris family. On November 30, 1944, Walt Disney Productions entered a contract with Samuel Goldwyn Studios in Los Angeles, CA,
to begin filming for "Uncle Remus" on January 2, 1945
Song of the South was expensive to produce for its time: about $2,125,000. In 1946, The Walt Disney Studio made $226,000 from the film.
James Baskett, the talented actor who portrayed Uncle Remus, originally called in
to the Walt Disney Studio to try out for the vocal part of a butterfly. Not only did he
get the bit part, but was also found to be the perfect voice for Brer Fox, in addition
to landing the main role of Uncle Remus.
Most of the outdoor live action scenes were filmed in Phoenix, Arizona.
Song of the South's re-release in 1972 set a boxoffice record for an animated
reissue.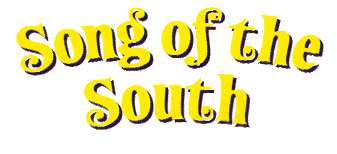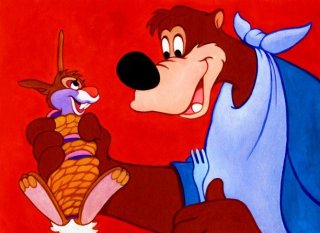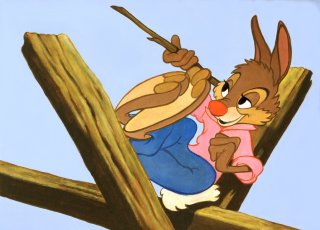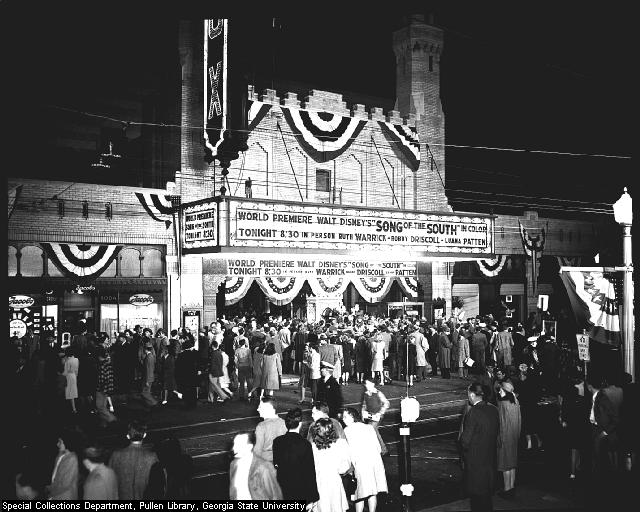 World premier of Song of the South in Atlanta, Georgia 1946 at the Fox theater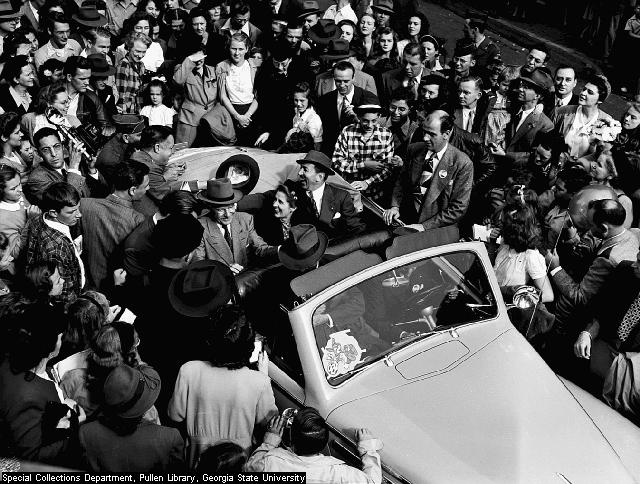 Walt Disney arriving at the world premier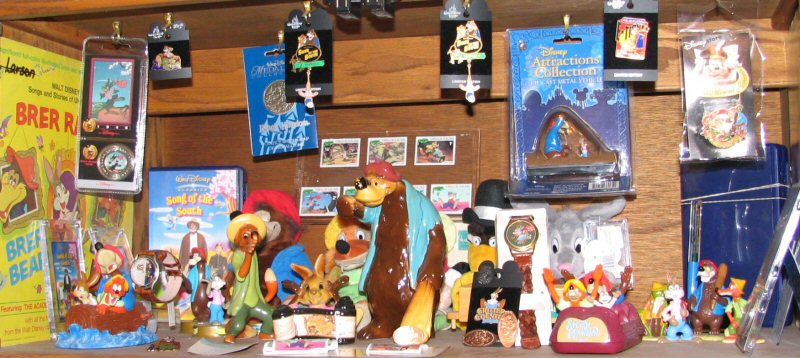 My collection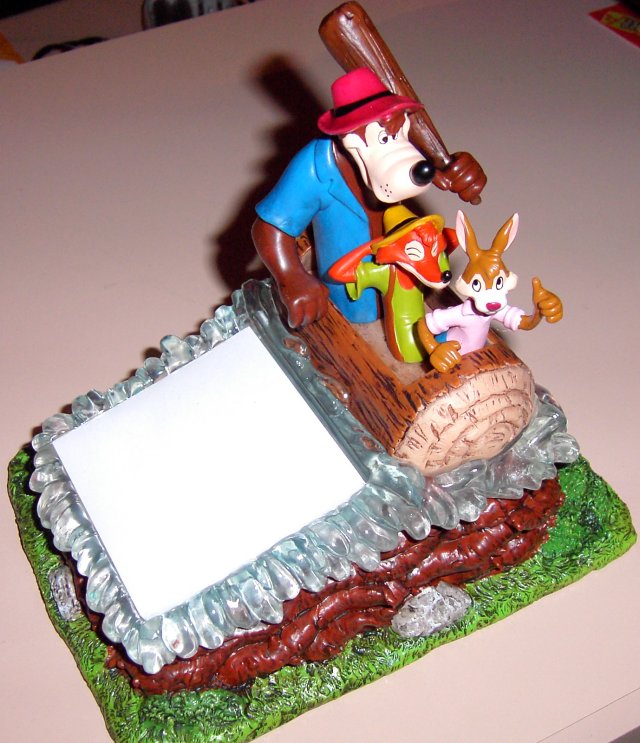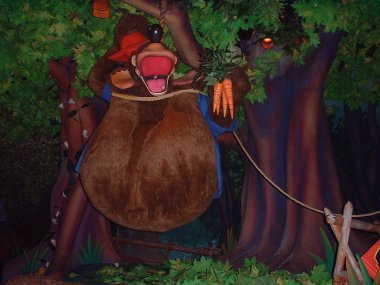 From the ride at WDW Splash Mountain. Awesome 16 minute ride you will never forget!!!!
Dont forget I have this and just about every WDW Ride on video on my site.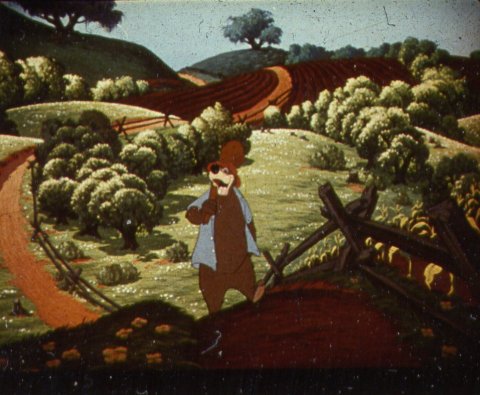 This image is from a 35mm movie trailer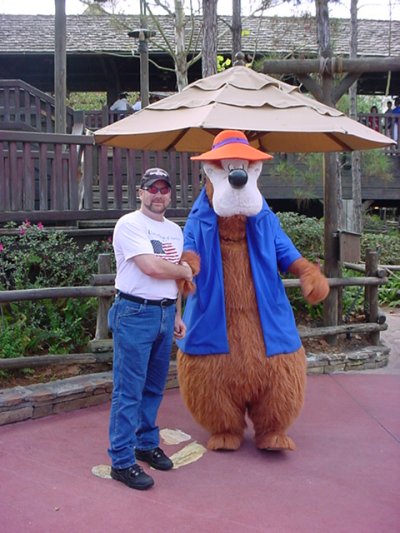 Here I am with Brer Bear himself
THE MOVIE CREDITS
Song of the South copyright 1946

Characters: Brer Rabbit; Brer Fox; Brer Bear; Brer Possum; Brer Frog; Mr. Bluebird
Credits: Animated sequences based on stories from Uncle Remus (1880) and Nights with Uncle Remus (1883) by Joel Chandler Harris
Live Actors: James Baskett; Ruth Warrick; Bobby Driscoll; Luana Patten; Lucile Watson; Hattie McDaniel; Erik Rolf; Glenn Leedy; Mary Field; Anita Brown; George Nokes; Gene Holland
Voices: Johnny Lee (Brer Rabbit); James Baskett (Brer Fox); Nicodemus Stewart (Brer Bear)
Special Processes: Ub Iwerks
Sound Director: C. O. Slyfield
Sound Recording: Fred Lau; Harold Steck
Film Editor: William M. Morgan
Music Director: Charles Wolcott
Photoplay Score: Daniele Amfitheatrof
Cartoon Score: Paul J. Smith
Vocal Director: Ken Darby
Songs: Ray Gilbert; Sam Coslow; Allie Wrubel; Arthur Johnston; Johnny Lange; Hy Heath; Eliot Daniel; Robert MacGimsey; Foster Carling
Orchestration: Edward Plumb
Original Story: Dalton Reymond
Cartoon Story: Bill Peet; Ralph Wright; George Stallings
Screenplay: Dalton Reymond; Morton Grant; Maurice Rapf
Background and Colour Stylists: Claude Coats; Mary Blair
Backgrounds: Ralph Hulett; Brice Mack; Ray Huffine; Edgar Starr; Al Dempster
Cartoon Art Direction: Ken Anderson; Charles Philippi; Harold Doughty; Hugh Hennesy; Philip Barber
Art Treatment: Elmer Plummer
Art Director: Perry Ferguson
Photography: Gregg Toland
Technicolor Colour Director: Natalie Kalmus
Tecnicolor Colour Associate: Mitchell Kovaleski
Costume Designer: Mary Wills
Directing Animators: Milt Kahl; Eric Larson; Oliver M. Johnston, Jr.; Les Clark; Marc Davis; John Lounsbery
Animators: Don Lusk; Harvey Toombs; Tom Massey; Ken O'Brien; Murray McClellan; Al Coe; Jack Campbell; Hal Ambro; Hal King; Cliff Nordberg; Rudy Larriva
Effects Animators: Josh Meador; George Rowley; Blaine Gibson; Brad Case
Associate Producer: Perce Pearce
Cartoon Director: Wilfred Jackson
Photoplay Director: Harve Foster
Release Date: November 2 1946
Running Time: 91+ minutes
Here is something interesting to look for on Splash Mountain.
( from www.hiddenmickeys.com )
If you are staring directly at the steamboat as you turn the corner, have your eyes focus on the animal on the top right of the steamboat. I forget if it's a duck or not, but he is playing an instrument. A Cast Member told me that this animal's shadow is Uncle Remus! If you take a look at it, it really does!

After reading about the Uncle Remus shadow, I watched a home video and saw it!! Then a couple of days ago I was at WDW and was riding and I saw it again! It looks just like him
It has been changed to Mickey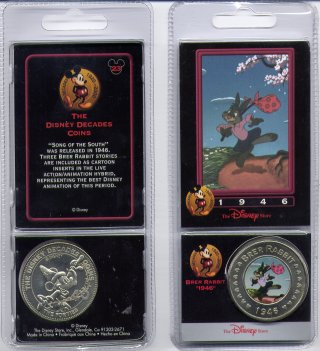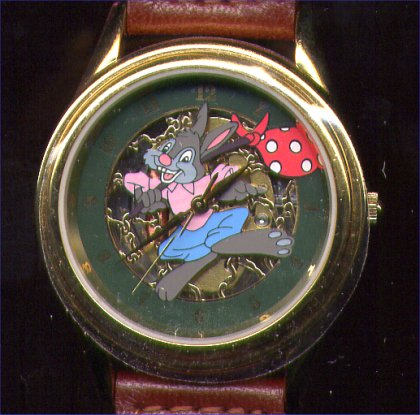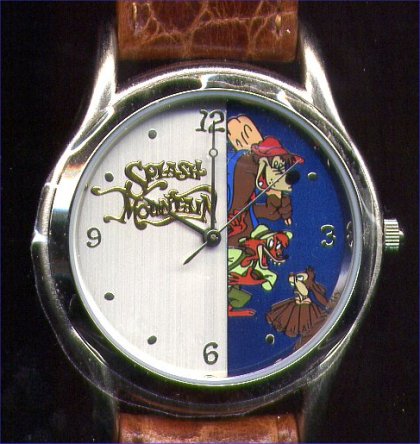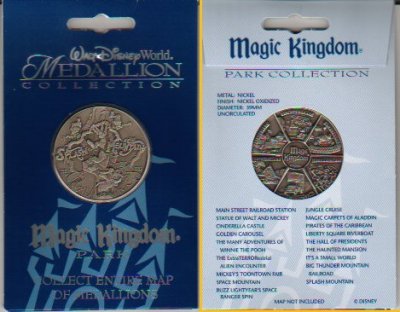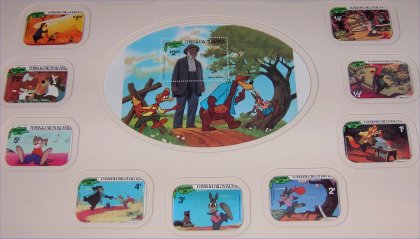 My Pin Collection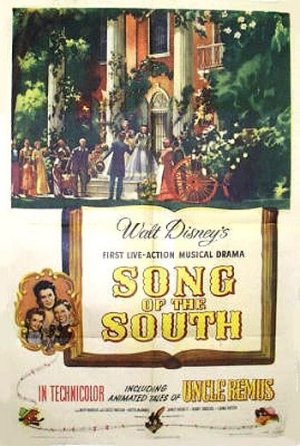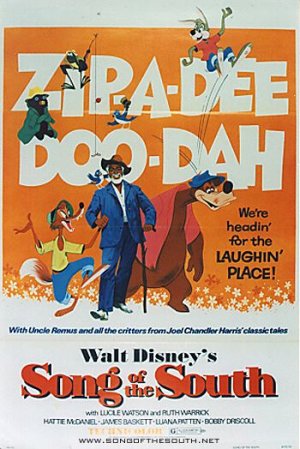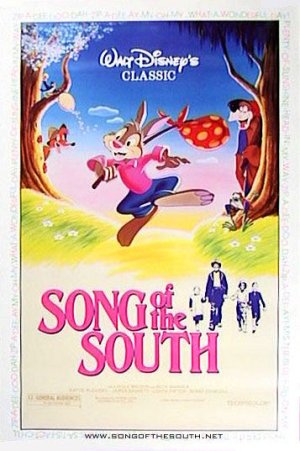 Disney UK Website. Check it out.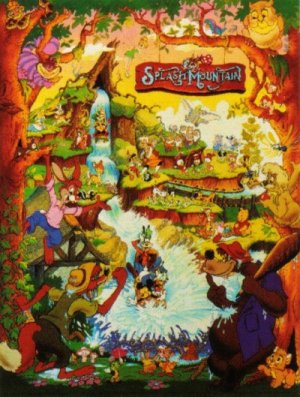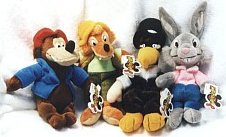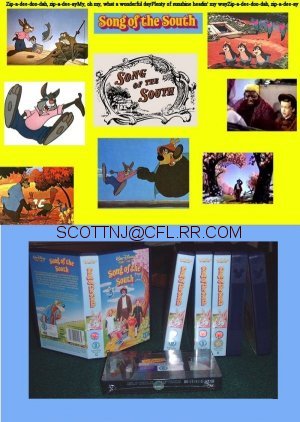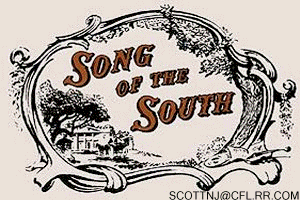 In Who Framed Roger Rabbit (1988), Song of the South had five cameos, the most characters from any single film shown within the movie:
1) Brer Bear can be seen walking off the Maroon Cartoons studio lot.
2) In the first Toon Town sequence, the three Sis Moles pop up from the ground
3) And afterwards, the Tar Baby can be seen sitting on the back fence.
4) The three hummingbirds say "Hi Eddie" and "Bye Eddie" as he drives by.
5) Brer Bear can be seen in the toon crowd of the final scene.
More facts and info on the great site below.......
Return to the WDW attraction main page
---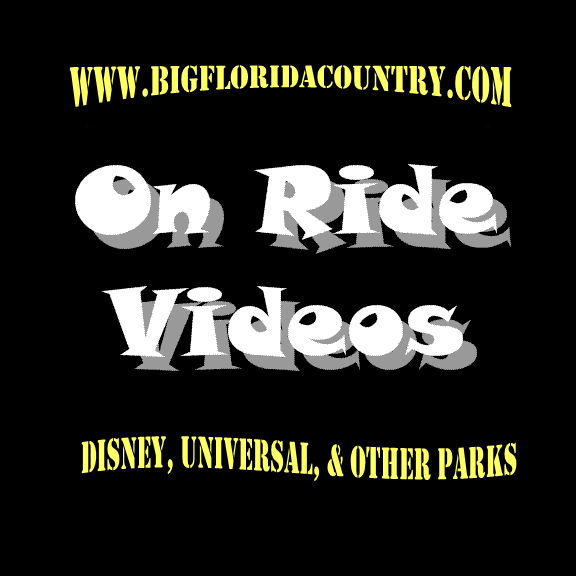 ---
---
---
---